55 Fiction is a form of microfiction that refers to
the works of fiction limited to a maximum of fifty-five words.

-Dear wiki.
Fiction55#2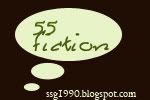 Disturbed
She woke up in her bed,startled.It was that noise again-a low rumble,like some wild animal with a terrible cold.It was gradually rising,on to a crescendo-like a building tempest.And then fell,only to rise again!
"Anish!",she yelled out to her twin,"Quit the nasal orchestra,will ya?!"
Soooo,er?How was it?I'm new to this genre of writing-though its kinda difficult,its great fun too!
Enjoy your Sunday!(or whatever's left of it:P)
Love,
Miss N